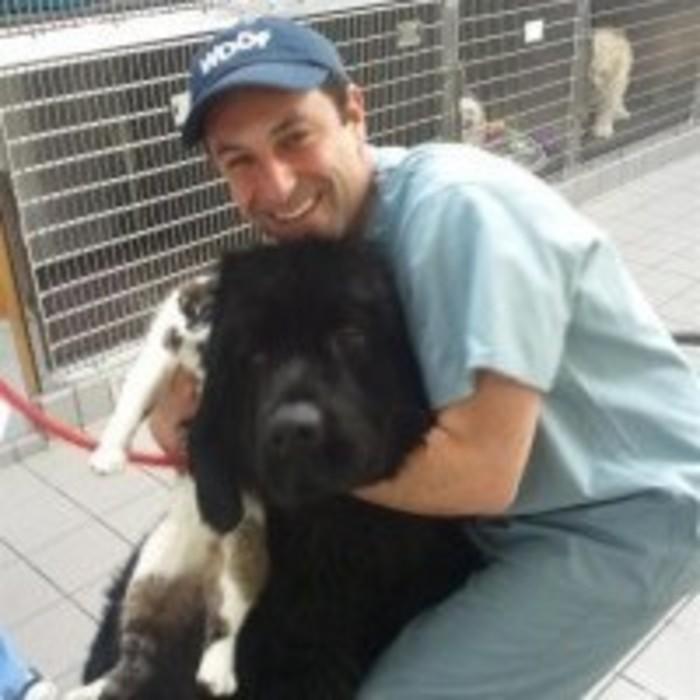 Dr. Thomas L. Skadron
DVM
Dr. Tom Skadron graduated from the Ohio State School of Veterinary Medicine in 1992. Afterward, he served an internship in medicine, surgery, and exotics at the Animal Medical Center in New York City. He has been practicing at the Skadron Animal Hospital since 1993. Dr. Skadron has a special interest in small animal medicine and surgery and has served on the board of several veterinary organizations, including The Animal Emergency and Referral Center of Minnesota and Veterinary Hospital Association.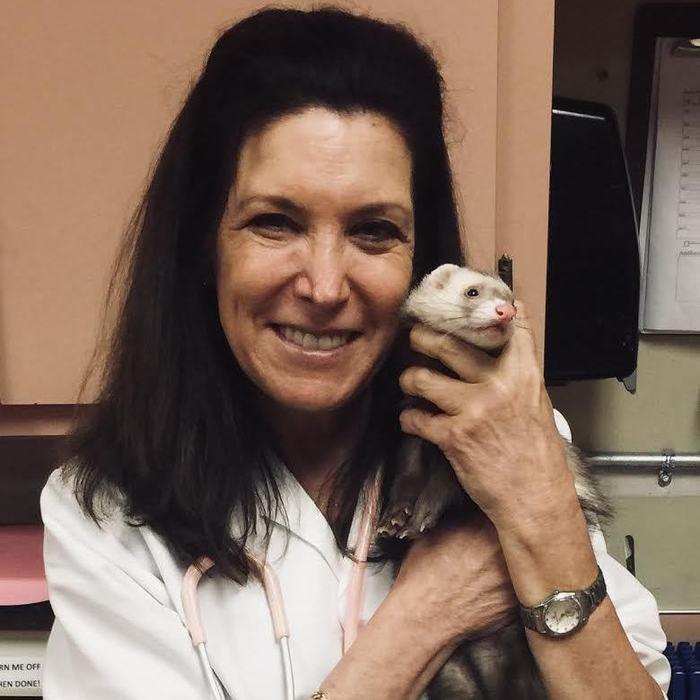 Dr. Teri Skadron
DVM
Dr. Teri Skadron graduated from the Ohio State School of Veterinary Medicine in 1992. Prior to arriving at Skadron Animal Hospital she served an internship in medicine, surgery and exotics at Animal Medical Center in New York City. She has a special interest in exotic animal medicine and is a veterinary acupuncturist. She became certified with IVAS (International Veterinary Acupuncture Society) in 2003.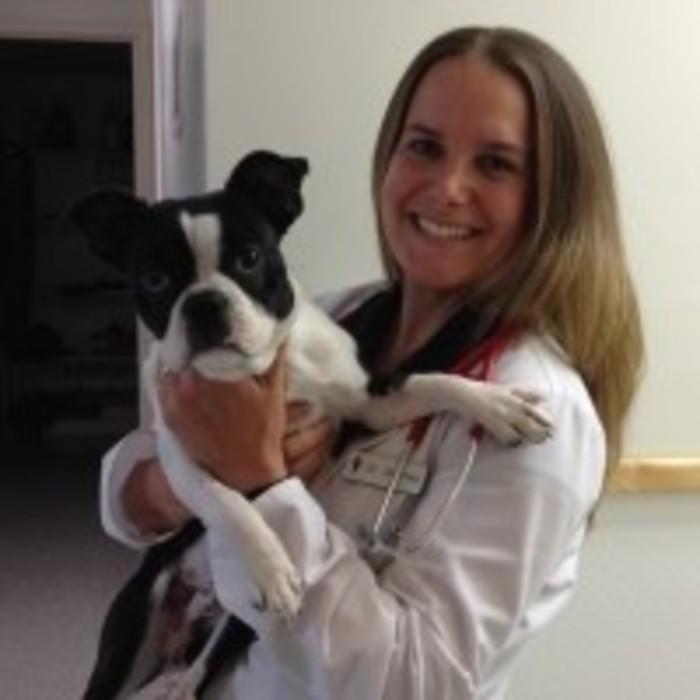 Dr. Heidi DeVries
DVM
Originally from Iowa, she obtained her Doctorate of Veterinary Medicine from Iowa State University. Dr. DeVries spent the last 13 years working in general practice and emergency medicine in California and Virginia. Her professional interests include internal medicine, dentistry, and client education. She and her husband have three amazing children that keep them very busy. In her free time she enjoys running, reading, gardening, cooking, cheering on her kids and spending time outdoors with her family.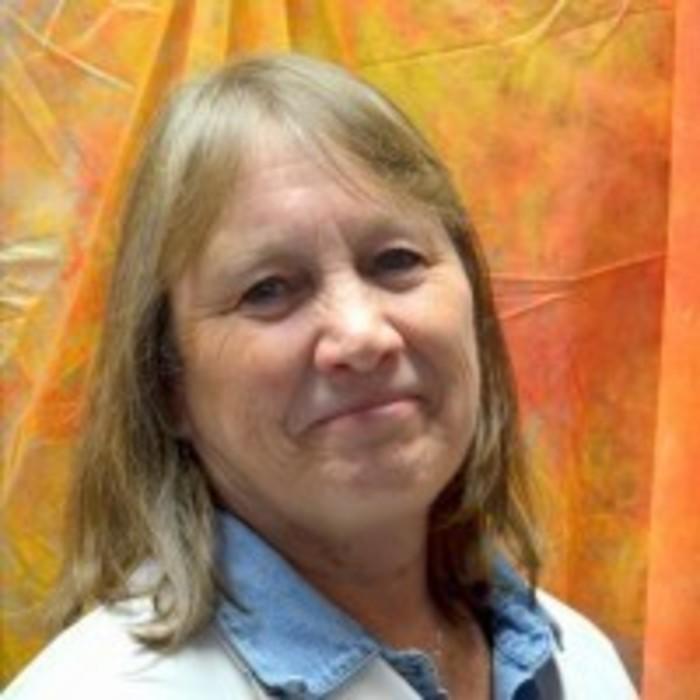 Dr. Joan Moore
DVM
Dr. Moore has worked at Skadron Animal Hospital since 1981. She continues to maintain her presence in a consulting role.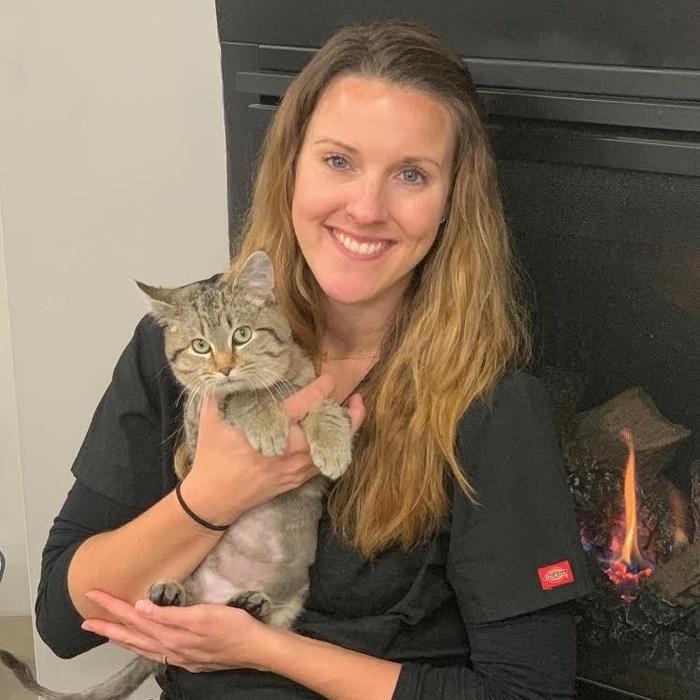 Dr. Keelia Ciernia
DVM
Dr. Ciernia graduated from the University of Minnesota Veterinary School in 2012. She obtained her BA from Providence College in RI and graduated from Breck High School. She worked in Minnetonka for 6+ years after graduation. Dr. Ciernia worked at Skadron Animal Hospital 12 years ago prior to and while attending veterinary school. She lives in Chaska with her husband and three kiddos (two boys and a girl). She also lives with 1 rescue Dane/Shepard cross ( Dexter) and 3 rescue cats ( Ruthie, Jeter and Yogi). Her special interests include internal medicine and gastrointestinal issues. She has a special love for German Shepards, flatcoated retrievers and cats!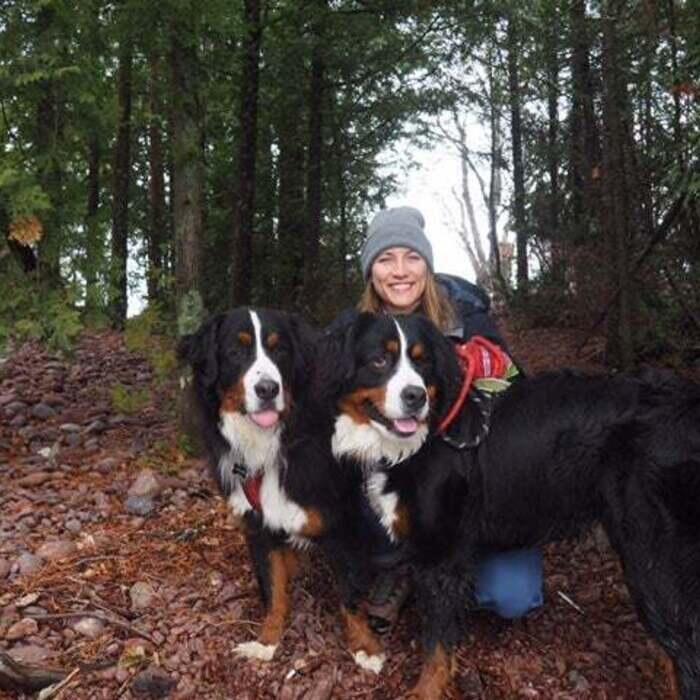 Dr. Abigail ClementDVM
Dr. Clement is originally from Wisconsin. She went to UW Stevens Point where she ran sprints on the Track and Field team and obtained her bachelors degree. She graduated from the University of Minnesota Veterinary Medical School in 2021. Her professional interests include strengthening the human-animal bond, internal medicine, and preventative care. She lives in St. Paul with her significant other, Dan, and two Bernese Mountain Dogs Moose (left) and Teddy (right). Outside of the hospital, you'll find her camping, playing board games, gardening, or running.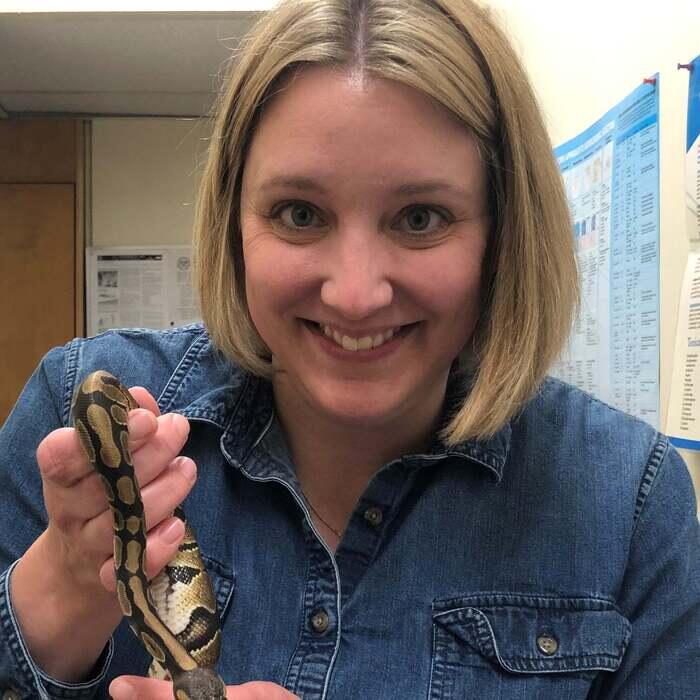 Jennifer

Jennifer joined our Skadron team in February 2022 as the Practice Manager! She loves working with our amazing and supportive team of doctors, technicians, receptionists and kennel staff! While she has only been with us for a couple of months, the team at Skadron has already become another family to her.
Jennifer received her Animal Science degree from the University of Minnesota and has been working in the animal care/management field for 15 years! While she loves dogs, her favorite animal is a dolphin! During college, she got the opportunity to intern at SeaWorld Orlando and worked closely with dolphins which was a dream come true! Jennifer lives here in MN with her husband, their two boys, their fur babies Hendrix (a playful Springer Spaniel) and Hotdog (guinea pig) and a few guppies that they acquired from her son's school project.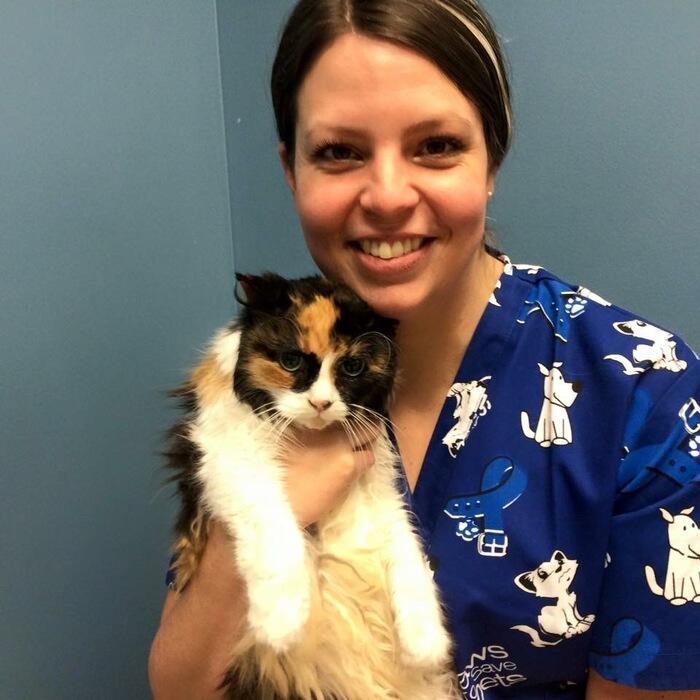 Katy
Lead Veterinary Technician
Katy joined Skadron Animal Hospital in 2018 with 6 years of experience in the veterinary field. She has a special interest in preventing and alleviating fear, anxiety, and stress for all pets and clients.
Katy has loved animals all of her life but holds a special place in her heart for kitties. She and her husband, Nick, live in Saint Paul with their dog Paisley, and their four cats: Sookie, Freddie, Lonzo, and Midge. In her free time she enjoys spending time with friends and family. Katy loves hiking, reading, cooking, and going to concerts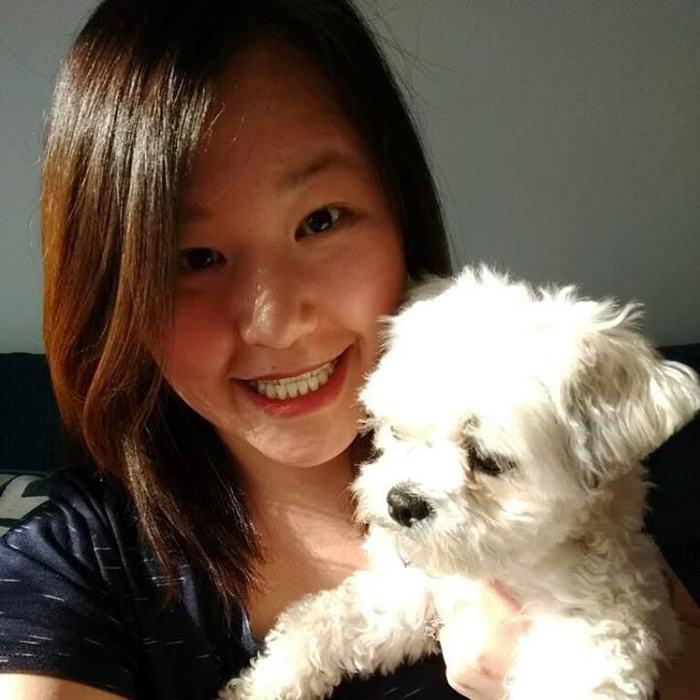 Stasi
Stasi has been with Skadron Animal Hospital for 6 years! She started as a kennel staff in 2016 and then became a veterinary technician after graduating from Argosy University in 2017. Her favorite part of the job is building a relationship with clients and patients and of course, getting puppy snuggles!!
Stasi lives in Maplewood with her husband, their 10-month-old daughter, and their two dogs. In her free time, she enjoys long walks, listening to music, volleyball, and spending time with family.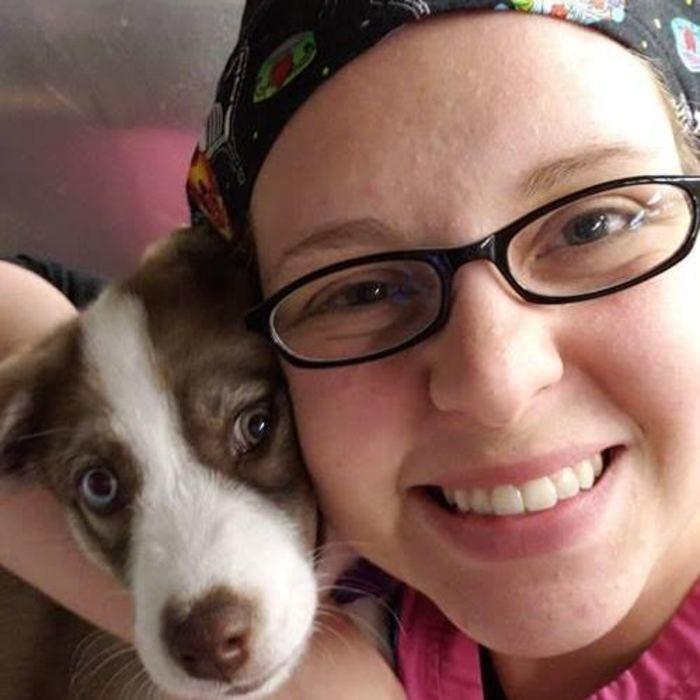 Melanie
Melanie graduated from Globe University in 2016 with an A.A.S in Veterinary Technology and passed her national boards exam earning her CVT credentials shortly after. She has been with Skadron Animal Hospital since September of 2017. She is from South St. Paul, MN where she lives with her boyfriend Kyle and their fur babies; 2 dogs, Nismo (husky) and Moose (Pitty Mix named after her late rats Goose and Maverick), a bearded dragon named Groot, a mouse named Colby Jack and a beta fish named Diablo. In her free time you can find her anywhere outdoors with her dogs or watching any Marvel movie.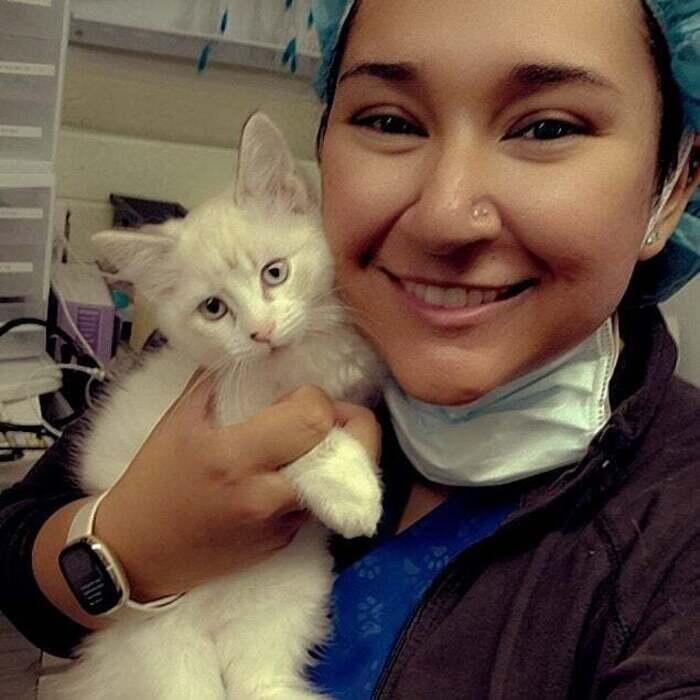 Viviana
Viviana joined the Skadron team in August 2020. She has always had a love for animals, from the creepy crawlies to our furry companions! She graduated from Pima Medical institute and has worked as a veterinary technician for over 8 years. Viviana stays busy outside of work with her two dogs, three calico cats, and two freshwater aquariums. In her free time, she and her boyfriend enjoy hiking, camping and visiting new restaurants and breweries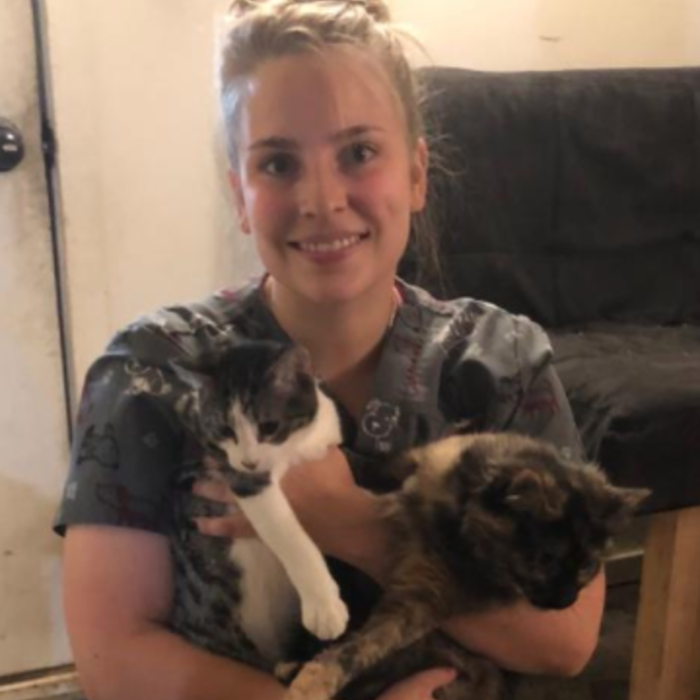 Kailyn
Kailyn started at Skadron Animal Hospital in September 2020. She has been a veterinary technician for 7 years. Anyone who meets Kailyn can see how much she loves animals and why she is so good at her job. Her favorite part about her job is getting to create those unique bonds with the patients! Kailyn lives with her fiancé Brandon, her two cats Koshka and Pepper, and her dog Tucker. Kailyn enjoys four wheeling and camping on her off time and especially enjoys taking long naps with her dog! Tyann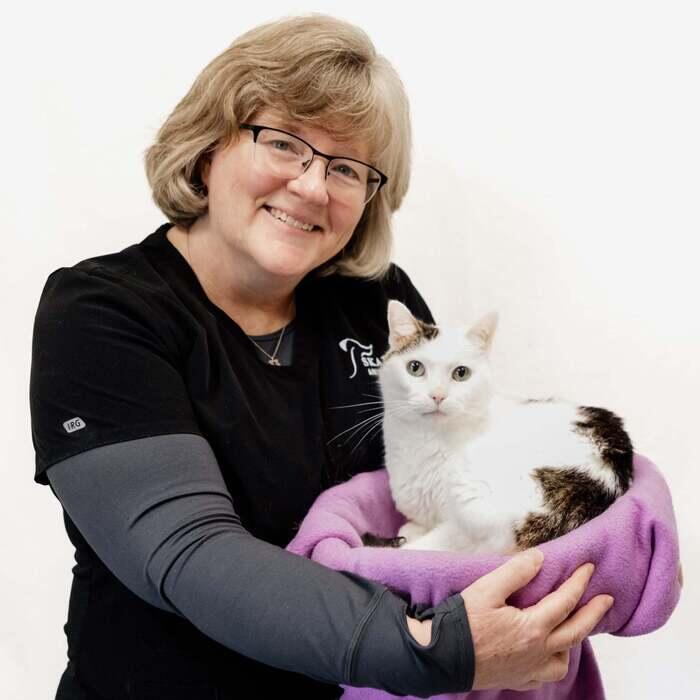 Pat
Pat is one of our fabulous and caring receptionists!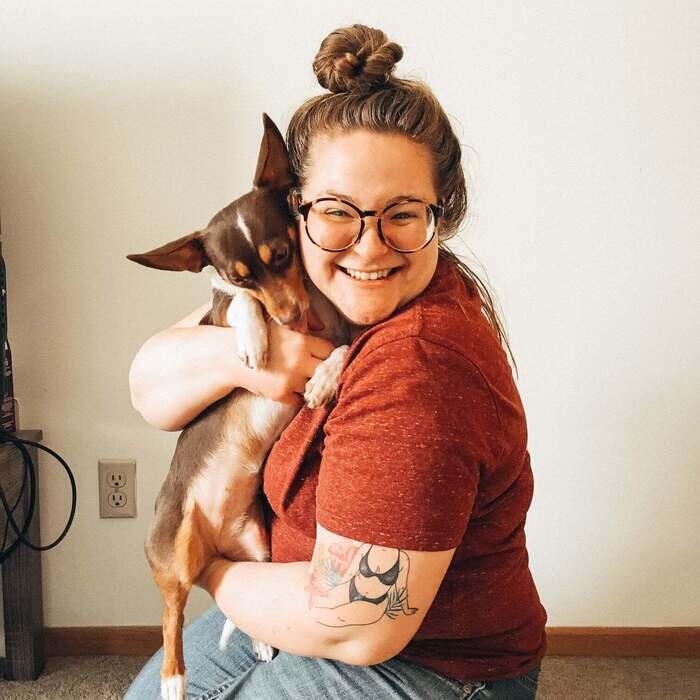 Bethany

Bethany is one of our lovely receptionists! She has been with the Skadron team since summer of 2021. She enjoys being at Skadron because of our truly amazing team and that each one of them gives everything that they have to create an amazing work environment! Her favorite part is that she gets to work next to her mom, Patty!
Growing up, Bethany often came to Skadron with her mom so being around dogs and cats and being able to be a voice for animals is one of the many reasons she loves working with them! Because Bethany's love for animals is so strong, she does not have a favorite breed. She will happily snuggle all kinds of pups and kittens!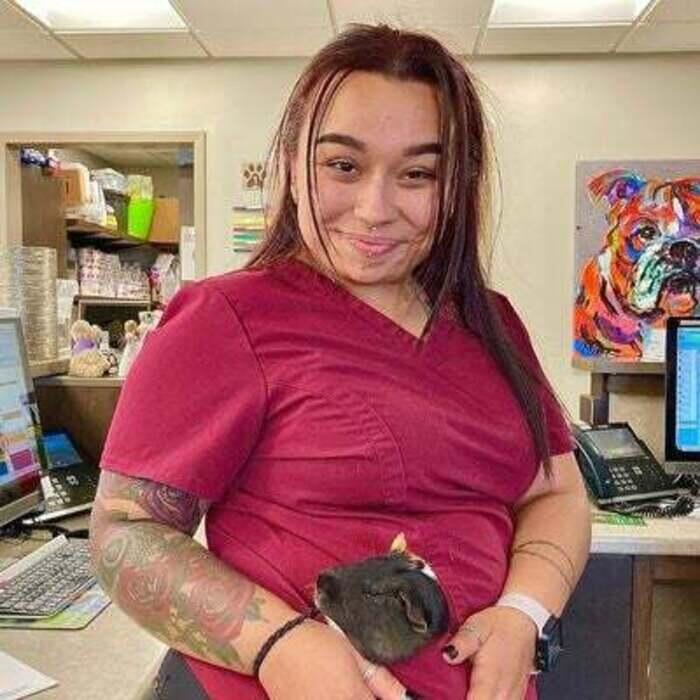 Nia

Nia joined our team in August 2021 and has been in the animal field for five years. She has a reptile named Happy, a guinea pig named Chorizo, and three dogs named Mija, Milo, and Coco. She has always had a passion for helping animals and plans to pursue a career as Veterinary Technician in the near future. She enjoys spending time with her family and being outdoors.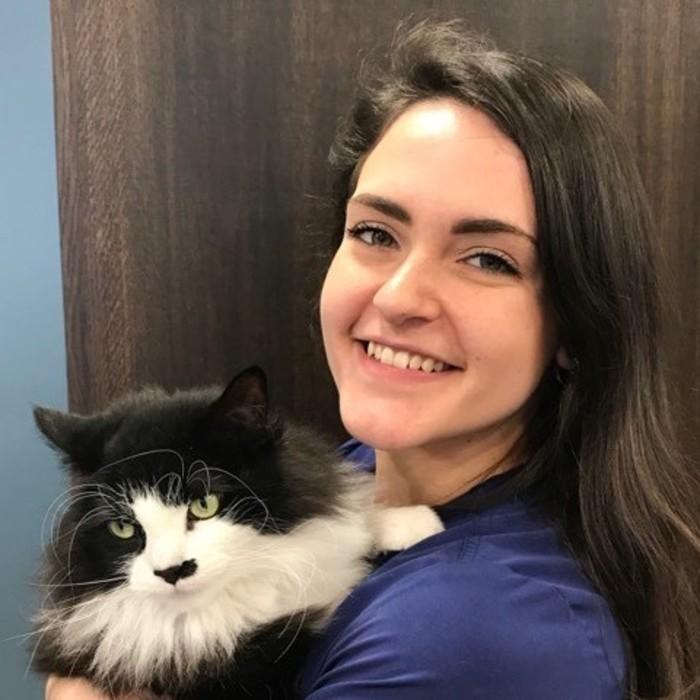 Marina
Marina has been with us since 2017 and absolutely loves taking care of the animals that are staying with us. While working full time at Skadron Animal Hospital, she is also taking classes at Inver Hills. During her free time, she enjoys spending time with her many pets which include 2 cats, a collection of reptiles and a Sun Cunure.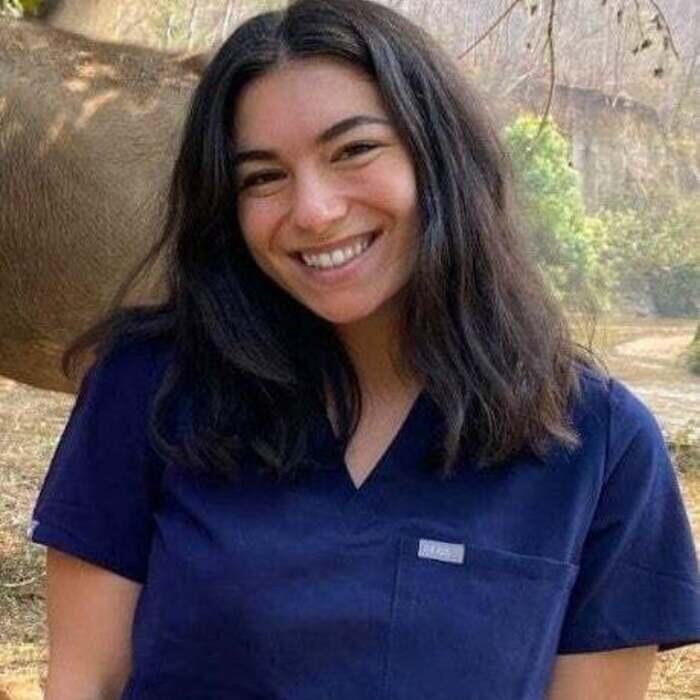 Emilee

Emilee has been a part of the clinic her whole life! Her parents are the Skadron doctors and her grandfather, Stanley Skadron, was the founder of the clinic. Emilee graduated from the University of Wisconsin-Madison with a Bachelor of Science in Zoology in May of 2020, and she is currently working towards veterinary school.
Emilee grew up with two German Shepherds so she holds a deep affection for the breed, but she loves ALL animals! She enjoys working with animals and witnessing the love their families have for them as well as how each pet fits perfectly into their families. It brightens her day to see how a nervous animal slowly starts to come out of their shell and show their hidden personality.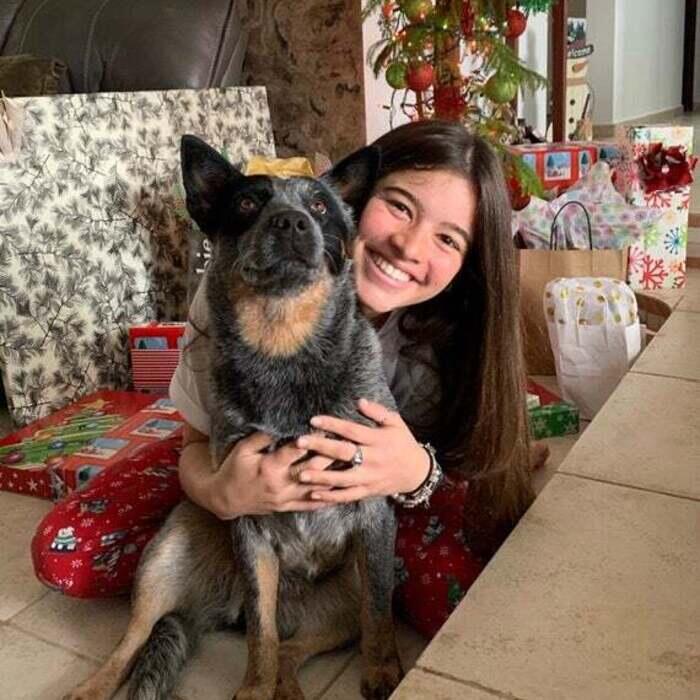 Andrea

Andrea was born and raised in Puerto Rico where she lived until 2017 when she decided to go to college at Iowa State University. She graduated in May of 2021 with a major in Animal Science. Even though she has worked with large animals her whole life, she has a special place in her heart for small animals. Her dog Aqua is her only furry child, aside from cattle and horses she owns back home.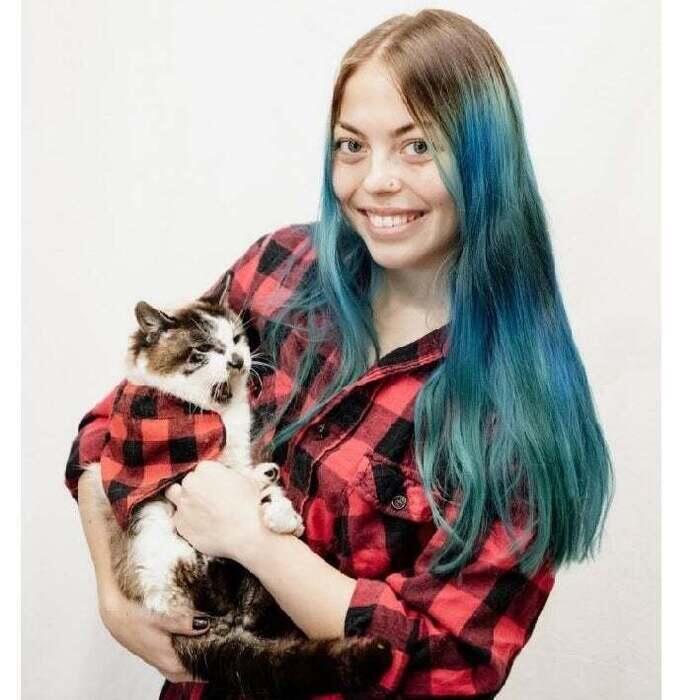 Sabrina

Sabrina was born and raised on a small hobby farm in Osakis MN. She received her certification for a veterinary assistant from Penn Foster in March of 2021. Sabrina has one cat named April who is 6 years old. Outside of work she enjoys reading, exploring the city with friends, and cuddling with heR cat.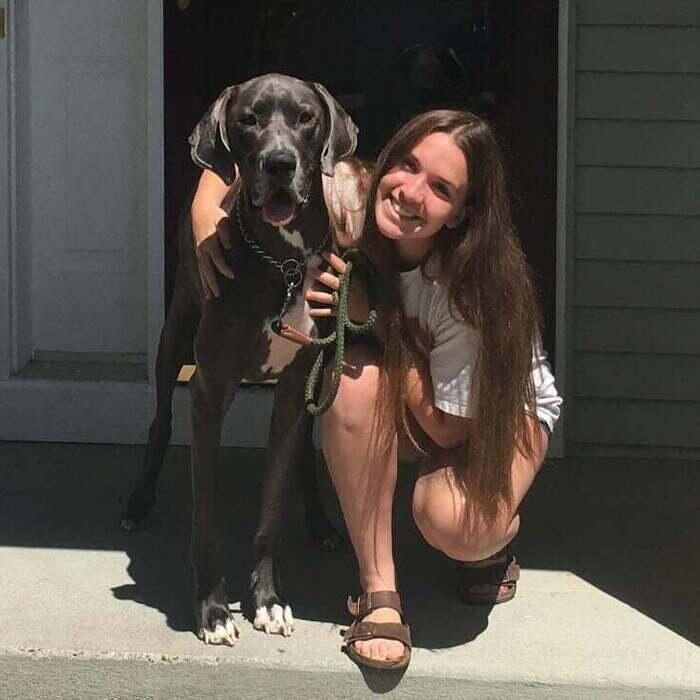 Lexi
I am a Biology student at the University of St. Thomas and am working towards applying to Vet School! I have been around animals my whole life, but have a soft spot for giant breeds like Great Danes, Berners, and Wolfhounds. In my free time I like being outside, going to concerts, and working out. I have a Great Dane named Koda and a tuxedo cat named Kenai. I love coming to work everyday and learning something new.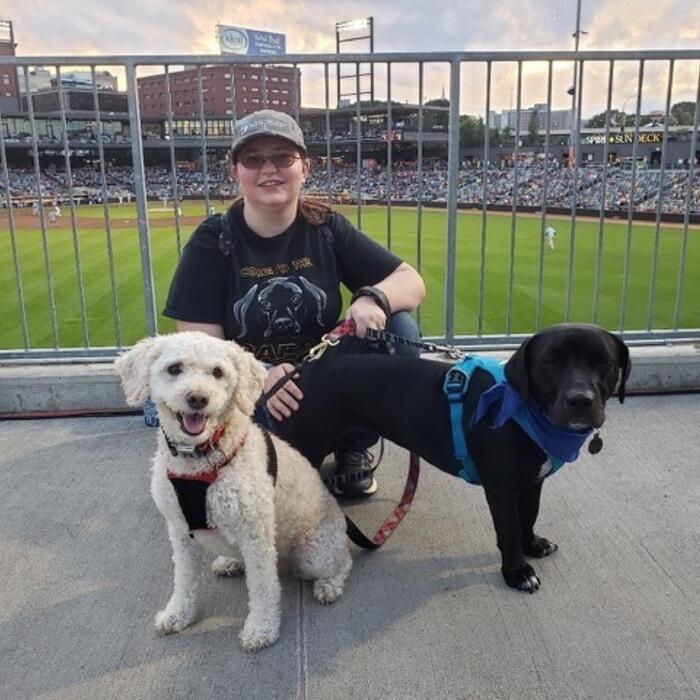 Kelsey Lead Kennel Assistant
Kelsey joined Skadron June of 2019. She lives with her husband Jesus and two dogs Sadie and Annie. Before joining skadron she was a positive dog trainer and she is still very interested in animal behavior, especially dogs. She also fosters for spots last stop canine rescue. She enjoys spending time outside with her dogs. She often goes on walks with her dogs and is always looking for more places for them to explore. Kelsey's favorite part of her job is helping the techs.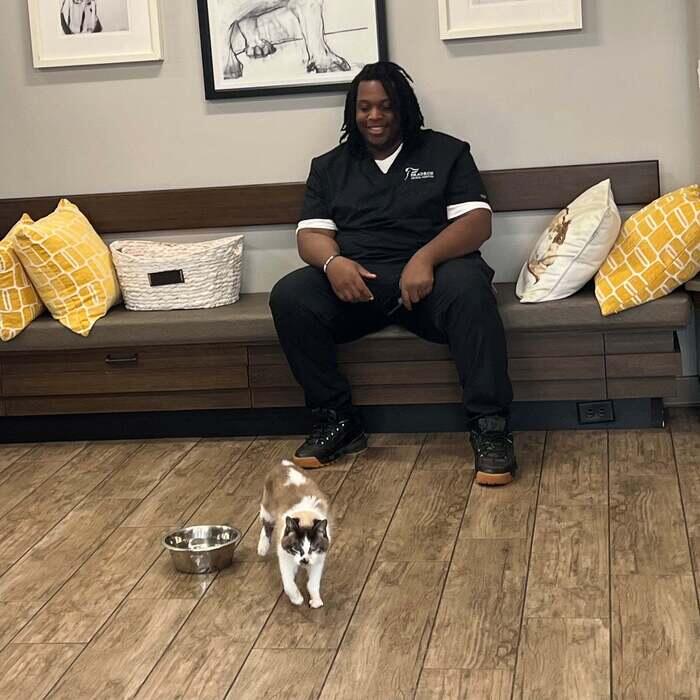 Joe
Joe was born and raised in Saint Paul, MN and is currently enrolled at Dakota County Technical College for his Bachelor's in Veterinary Technology. Joe has a cat named Austin who was given to him by his mother at a young age and another cat named Stitch who he adopted from Skadron. Some of Joe's favorite pastimes outside of work are collecting old school music vinyls and playing basketball with friends. Hannah
Bio coming soon!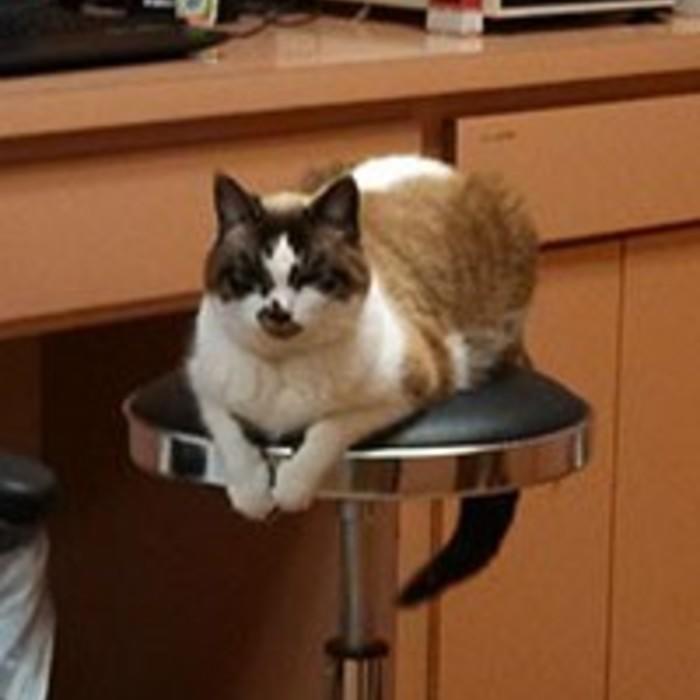 Bob
Bob is another one of our overindulged practice cats. His favorite spots include his "consultant's stool" (above) and the perch in the crook of the window overlooking the lawn. Bob, like Penelope, does not have to punch a clock. He's always on duty.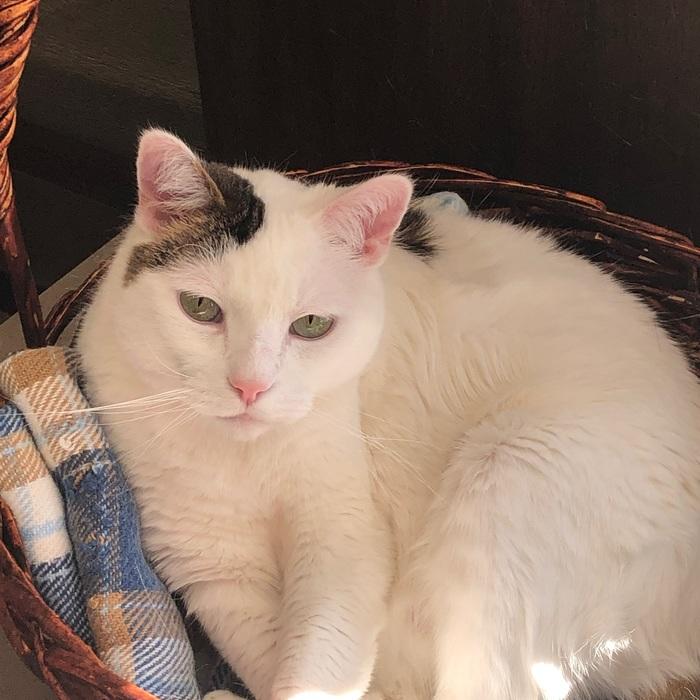 Ellsworth
Ellsworth is one of our house cats who can be found on top of the cat tree or near the closest food bowl. He enjoys lots of attention from clients. and loves catnip. If he isn't on the cat tree he is probably curled up in the basket taking a cat nap!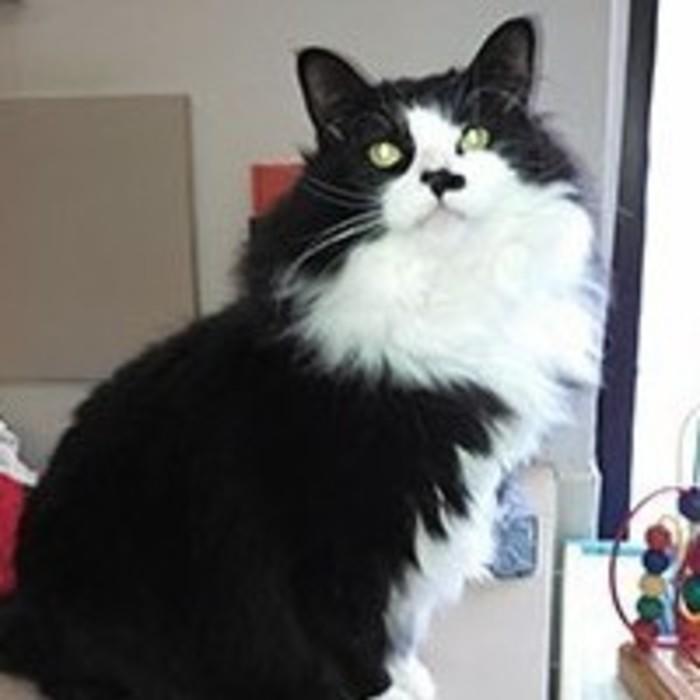 Penelope
Penelope loves it here at Skadron Animal Hospital. And why not? Where else can you have the run of an office along with a pipeline to an unlimited assortment of treats? Look up "spoiled cat" in the dictionary and you will see this picture of Penelope.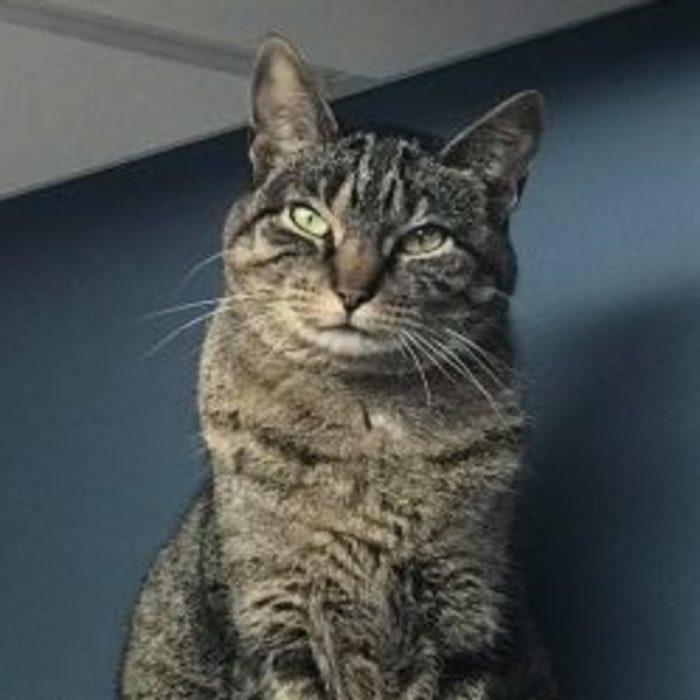 Raja
Raja is a frequent greeter to those entering the animal hospital. Her favorite pastime is bird watching.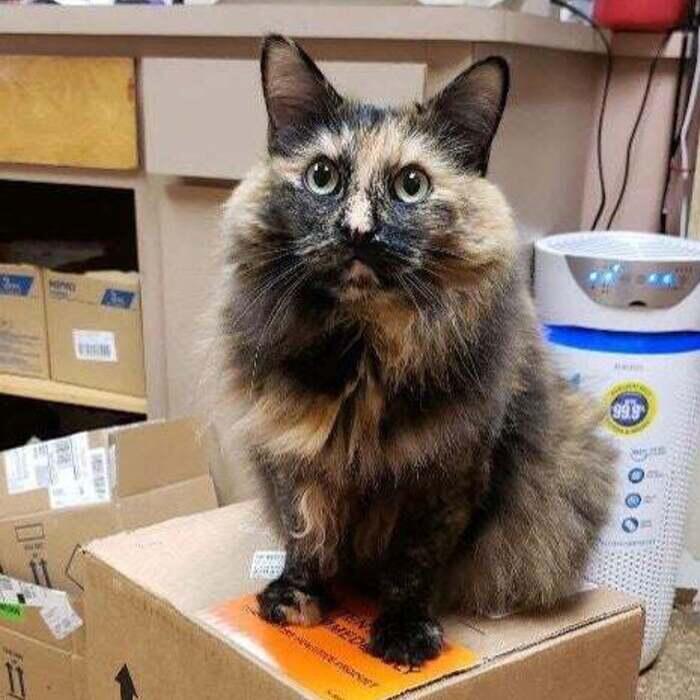 Twix
Twix is our special house cat who requires the daily help of the team to express her bladder. Unfortunately, when she was brought to us as a kitten, she was attacked by a dog which left her with the inability to urinate by herself. Twix is very wary of people so she likes to hide in the back of the clinic, but when you take the time to get to know her and earn her trust, she can be extremely sweet and lovey-dovey!